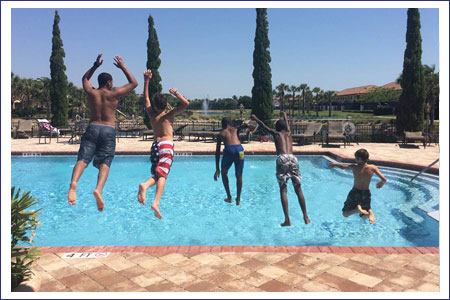 Raising Funds
The principal fundraiser, The Havenly Affair, takes place in the fall of each year. As with any event, there are many opportunities available to suit anyone's area of interest.  In addition to guild-sponsored fundraisers, there are others that need helping hands. The Haven Board of Directors sponsors a golf tournament in the spring and The Space Coast Runners Assoc. sponsors a 5K run also held in the spring. Both events need willing volunteers.
The Haven For Children Thrift Shoppe
The Haven Thrift Store is an upscale thrift shop, located at 1765 South Patrick Drive in Indian Harbour Beach. The shop is open Monday-Saturday from 10:00 am to 3:00 pm. Many hands are needed to complete all the tasks involved in running a small business. But it's not all work as fun and fellowship are in great abundance. The Haven Thrift Store contributes over $100,000.00 to The Haven every year!
Chef du Jour
Volunteers provide dinner for the children and staff each and every day. Not only does this service save a lot of money but more importantly, it frees up the staff to provide much needed hands-on care. Meals do not have to be fancy, just nourishing home cooking.
Newsletter and Directory
The Haven Guild publishes a twice-yearly newsletter to inform members, contributors and community leaders of "Haven Happenings." Help is needed for editing, printing, and preparation for mailing. Annually a directory is compiled to update membership information.
Birthdays, Santa Claus, Easter Bunny, and the Tooth Fairy
The Guild makes all these important events in the lives of children special. As one volunteer said, "We do all we can to treat each child like one of our own." The Guild also reaches out to the community on behalf of The Haven children requesting support for summer camp tuition, back-to-school backpacks and Christmas wish list items.
Education and Advocacy
The Haven Guild provides speakers to various clubs, organizations and prospective donors. Making the community aware of child abuse issues is a goal of the Guild. Said one member "Our happiest day would be the day we would have to close our doors because there would no longer be a need."
Grants
The Guild writes grants to various corporations to provide needed funds.  Volunteers familiar with this process are always needed.